The whitepaper for corporate communicators and marketing managers
In this white paper, we dispel the most common misconceptions about managing communications and marketing and provide a structured overview of the most important measures for efficient and effective management - from practice for practice.
What do you get?
Description of the most common mistakes & misconceptions from many years of experience in cooperation with DAX/MDAX companies
Practical solution approach for the respective error
Total 11-page whitepaper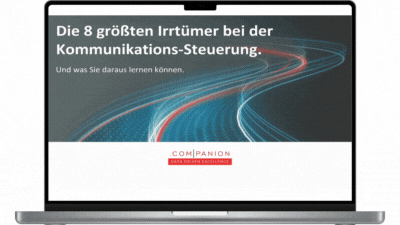 "*" indicates required fields
About us -   
.companion is a strategy consultancy and data agency from Berlin since 1998. We are specialists in "Data-Driven" and use KPI to drive digital excellence. With our reporting service Content.ONE, we support teams in newsrooms, content or campaign departments of DAX/MDAX companies and deliver unified, universally usable and fully automated reports on topics and campaigns - across all channels.
Do you still have questions and would like to talk to us? 
or contact us:
Justus Hug | hug@companion.de | 030 / 208 47 41 40